BigData Boutique is proud to announce that it has achieved the Amazon Web Service (AWS) Service Delivery designation for Amazon OpenSearch Service, recognizing that BigData Boutique has deep technical knowledge, experience, and proven success in delivering Amazon OpenSearch Service to customers.
Achieving the Amazon OpenSearch Service Delivery designation differentiates BigData Boutique as an AWS Partner Network (APN) member with proven capabilities in delivering successful migrations, implementations and optimizations projects on Amazon OpenSearch Service, thus helping customers to perform interactive log analytics, real-time application monitoring, website and catalog search, and more. To receive this designation, APN Partners must possess deep AWS experience and deliver solutions seamlessly on AWS.
"With over 10 years of experience in data stacks and specifically Elasticsearch and OpenSearch, BigData Boutique's expertise with OpenSearch is second to none," says Itamar Syn-Hershko, Founder and CTO of BigData Boutique. "To be recognized as an Amazon OpenSearch Service Delivery Partner is a great honor. We will keep bringing our customers unparalleled services and support, and together with Amazon, we can continue helping customers leverage the scale, speed, and flexibility of Amazon OpenSearch Service to get the most out of their data."
As part of becoming Amazon OpenSearch Service Delivery Partner, Pulse by BigData Boutique now fully supports Amazon OpenSearch Service including all of it's unique features such as Ultrawarm, Cold tiers and more.
"Pulse was designed to give our customers the peace of mind they seek with cluster health and maintenance, especially for mission-critical deployments", says Itamar.
For Amazon customers running OpenSearch Service clusters and requiring in-depth analysis, optimization, and on-going maintenance and support, Pulse will act as an automated consultant, recommending actions to take to help with maintaining cost and performance and always keeping the clusters in check.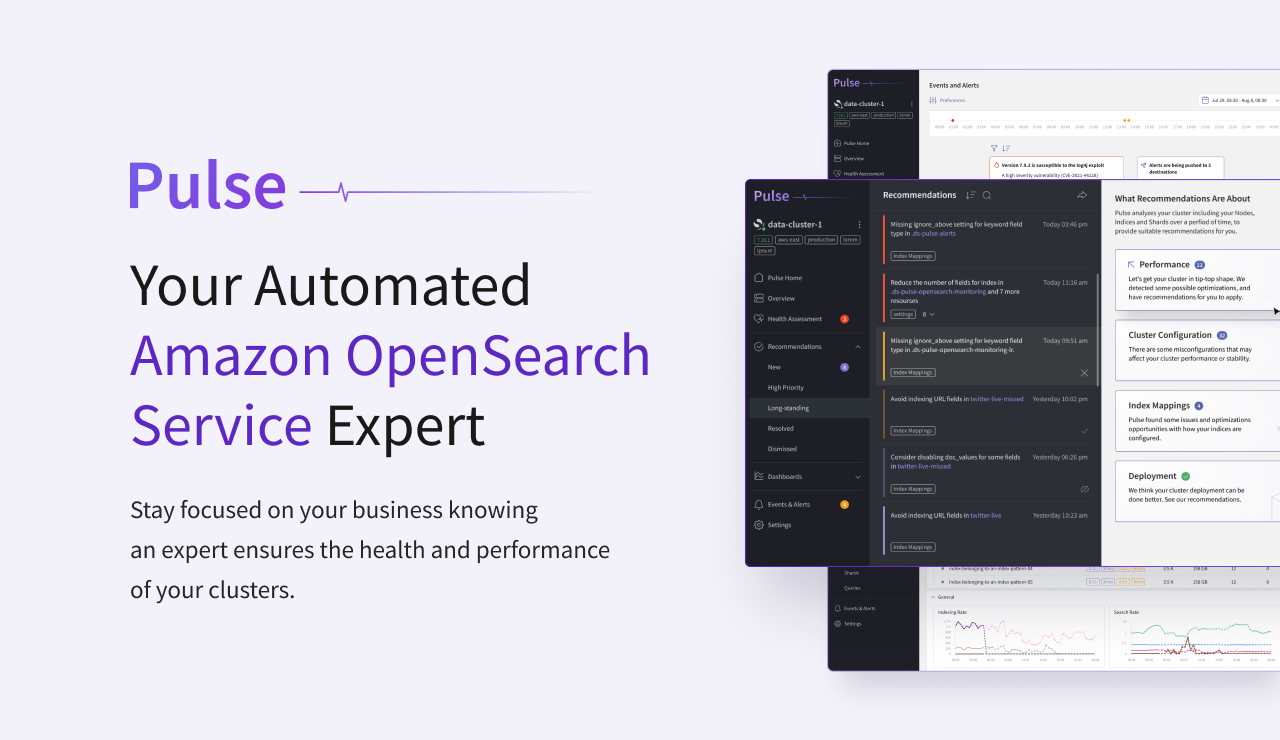 About BigData Boutique:
Founded in 2010, BigData Boutique is a premium consulting firm focused on Big Data technologies to help you deliver the best solution to any substantial project or problem. With 13 years of extensive experience in building and optimizing modern data stacks, BigData Boutique is a world-renowned expert in Big Data technologies.
BigData Boutique's work consists of architecting, implementing, and optimizing any data platform on any scale, everywhere (cloud or on-prem). The firm helps global customers design a data platform from scratch or survey, redesign, and improve an existing platform, utilizing top expert engineers in modern technologies that make up most of the world's most enormous data stacks.
BigData Boutique's customers have reported saving up to 30% on development costs using its services, and significant increase of data platform stability and performance.
Achieving the AWS Service Delivery Designation was strategic to BigData Boutique, to allow all Amazon OpenSearch Service customers to benefit from its services. Contact to utilize BigData Boutique's expert consultants for migrating to OpenSearch Service, implement a new project, or optimize your existing clusters.