Are you looking to harness the full potential of Elasticsearch for your business?
Having hard time optimizing your cluster to sustain load?
Elasticsearch cluster costs are soaring and you are looking to reduce costs?
BigData Boutique's Elasticsearch experts and 24/7 support service is a your go-to solution for ensuring optimal performance and reliability.
Our team provides personalized Elasticsearch Support services and premium assistance to ensure unparalleled performance.
The unparalleled experience of our team, with 13+ years of experience offering tailored support solutions for self-managed or cloud deployments.
Our unique approach for providing proactive and preventive support, through our one-of-a-kind Pulse platform.
We provide 24/7 professional support with rapid response times, designated experts, proactive assistance and real life success stories in action.
Elasticsearch Support by Experts
Elasticsearch, most likely a vital tool for your business, comes with technical aspects and operational complexities that may seem overwhelming. This is where we step in. Our experienced support team provides premium assistance for all Elasticsearch requirements, guaranteeing unparalleled performance and dependability.
We offer support for all versions of Elasticsearch, including very old versions (v1.x, 2.x and 5.x). We provide assistance with Elastic Cloud deployments or self-managed clusters. Our engagements deliver an exceptional support experience, including monitoring and documentation to ensure lasting performance success.
Trusted by Fortune 100 and midsize companies alike, BigData Boutique's support services cover all aspects of Elasticsearch deployment, from design and implementation to optimization and preventative maintenance.
Choosing our support not only safeguards your Elasticsearch investment but also promotes smooth running of your data and business processes with minimal downtime.
Comprehensive Elasticsearch Support Offerings
With over 13 years of hands-on experience, support for self-managed or Elastic Cloud deployments, and our exclusive Pulse software for automated optimizations, we have the tools and expertise to keep your Elasticsearch environment running at peak performance and provide proactive support at all times.
13 years of Experience (and counting)
With over a decade of field experience, our team offers various services for Elasticsearch: Implementation, Optimization, Maintenance, Migration, Search Relevance, and more. There is no other team in the world with such documented level of experience and expertise.
Our commitment to customer service is unparalleled, and our 24/7 support guarantees the stability and performance of your Elasticsearch cluster.
Over the years, we have maintained and supported clusters at any scale and in any vertical. Our proven track record showcases not only our expertise but also our dedication to helping clients achieve their desired outcomes.
Support for Self Managed Elasticsearch or on Elastic Cloud
Recognizing the unique requirements of each business, we tailor our support services to accommodate both self-managed Elasticsearch and managed Elastic Cloud deployments. Our team can assist with deploying Elasticsearch on various platforms, including AWS, Google Cloud, Azure and on-premises.
Self-managed Elasticsearch offers full control over the environment, allowing you to customize configurations and scale as needed. However, certain drawbacks may arise, such as the need for extra resources and specialized knowledge to configure and maintain the environment, along with managing the necessary details.
On the other hand, Elastic Cloud provides managed services, cloud-based deployments, and scalability, depending on your requirements. Regardless of your choice, our support ensures flexibility and adaptability to your specific needs.
When running managed Elasticsearch clusters on Elastic Cloud, our team can provide superior support to the one provided by Elastic support, simply because our tooling is better, our expertise more significant, and we can also find culprits in your application and usage of the technology and help fixing those.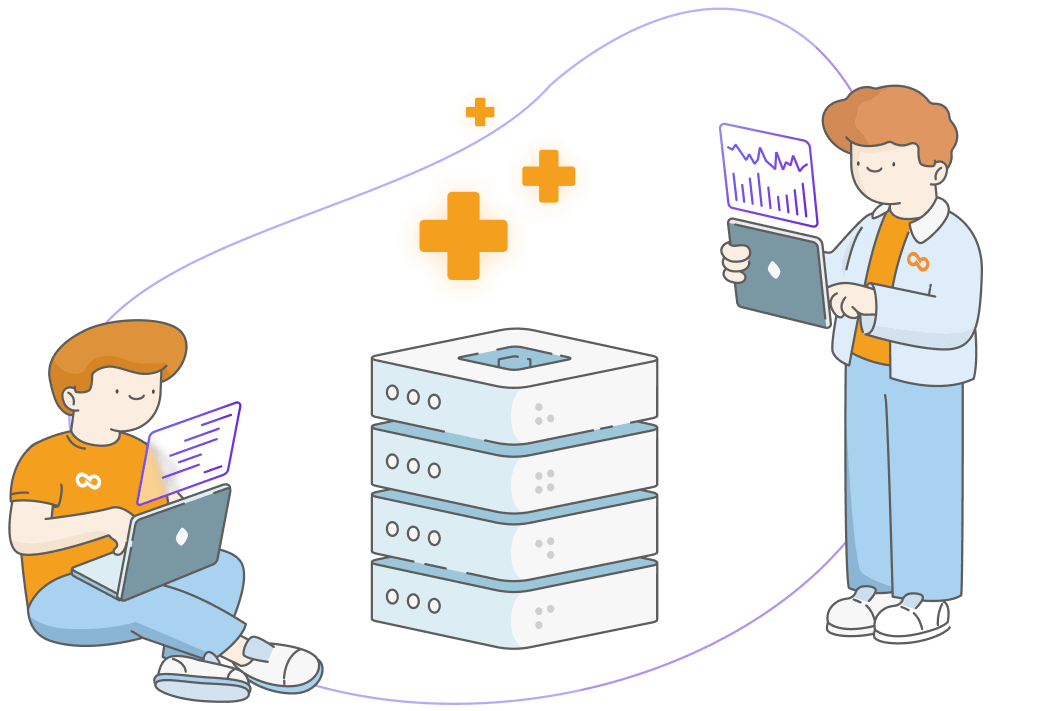 Pulse for Elasticsearch: Our Unfair Advantage
We built Pulse after a decade of working with customers and optimizing hundreds and thousands of clusters. We took the accumulated knowledge, experience and expertise and created a tool that is by far the most complete and sophisticated monitoring, alerting, and co-pilot platform for Elasticsearch.
Pulse automates servicing and optimization for Elasticsearch clusters by providing automated recommendations for cluster health and performance, as well as the ability to detect and alert potential issues.
By leveraging Pulse, our customers can sleep better at night knowing their clusters are in good hands, and our team proactively monitors and ready to offer help.
The security and efficiency of your Elasticsearch cluster is always our top priority. Pulse's automation capabilities facilitate the timely detection and resolution of potential issues, ensuring efficient and secure cluster maintenance.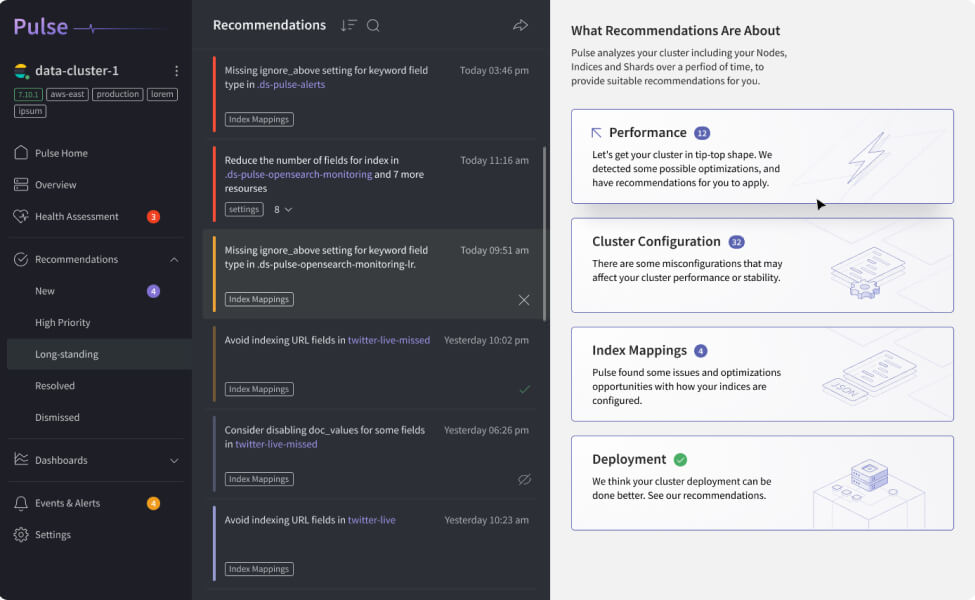 Real-Life Success Stories: Elasticsearch Support in Action
Our team has supported many companies harness the power of Elasticsearch to innovate, improve their search capabilities, and solve complex problems. Hear our customers speak:
The understanding of Elasticsearch and insight BigData Boutique were able to provide was absolutely UNBELIEVABLE.

Pavel Klushkin
We tried several different support services, which weren't very useful to us. With BigData Boutique we had the best experience.

Avi Arfin
Search EM at
You can tell just by talking to BigData Boutique, how deep their knowledge in search technology is.

Gio Bagtas
Director at
BigData Boutique helped our search team with some of the intricacies of Elasticsearch and how we could integrate it with our solutions.

Andy Metcalfe
Project Lead at
BigData Boutique preserved the basic schema and underlying architecture, yet took fundamental design decisions that significantly improved the existing platform.

Rafi Bryl
Director at
Thanks to BigData Boutique we now constantly explore the potential for further use of Elasticsearch.

Uri Harel
VP Infrastructure at
BigData Boutique created the best solution possible, and automated the entire process using DevOps principles.

Denis Borisevich
Lead DBA at
Ever since BigData Boutique helped our Elasticsearch migration, we have had 99.999% (five 9s) uptime, a much better monitoring and alerting system and observability of our infrastructure and systems.

Deborah Anav
Technical PM at
Had the pleasure to work with BigData Boutique. A mature experienced team with all it is related to databases, cloud and specifically to Elasticsearch.

Sharon Weintraub
Data Services Team Lead

BigData Boutique helped us take our Elasticsearch capabilities to it's top. Together we have optimized our infrastructure, fine-tuned many of our queries and pipelines to get a faster and more efficient service.

Ady Levy
VP R&D at

See All Testimonials
These real-life success stories showcase the effectiveness of our Elasticsearch support services for various customers in different industries and use cases whom we've provided help, highlighting our ability to deliver tangible results to all Elasticsearch users.
By partnering with BigData Boutique, these organizations have been able to capitalize on our expertise and experience, spurring innovation and enhancing search capabilities. Our support has been instrumental in resolving intricate issues and ensuring the smooth operation of Elasticsearch deployments, regardless of the industry or scale.
Meet our Elasticsearch Support Team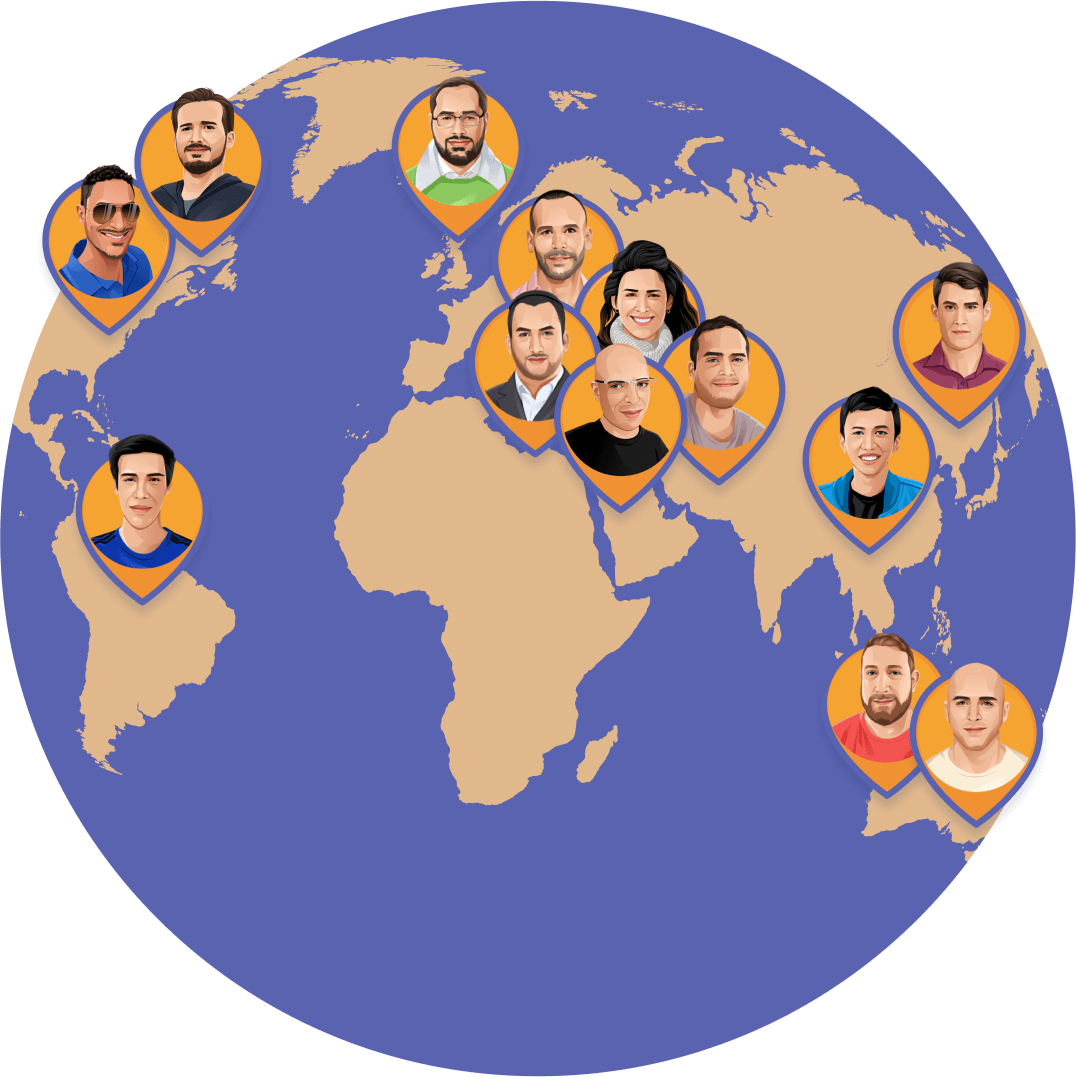 We live Elasticsearch, breathe Elastic Stack, count Kibana sheep when we go to sleep, and dream of new ELK-based products and solutions. Our expertise go deep all the way to Apache Lucene itself.
Our Founder & CTO, Itamar Syn Hershko, is a world renowned Elasticsearch expert, as well as a successful entrepreneur, speaker, and lecturer.
Each member of our team is a world-class expert that was carefully scrutinized, selected, and trained by Itamar himself in order to ensure the highest quality and service in the market. Along with industry best practices, our clients can take full advantage of their solutions - from enterprise search to logging and analytics. At BigData Boutique, we are deeply committed to solving complicated challenges.